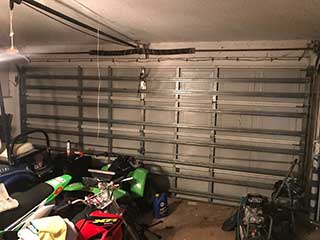 It might surprise you, but the garage door is one of the most important things in any home. Since it's so frequently used and since great weights are usually involved, its mechanism and related parts might need fixing from time to time, and might stop working altogether in some cases. Since you wouldn't want to be caught off guard and spend half the day tending to your malfunctioning door, you'd be best advised to hire periodic maintenance services. If it's taken care of routinely and not only when something happens, it will most likely last for a couple of years more.
What are the Maintenance Services We Offer?
At Garage Door Repair San Antonio, we have comprehensive knowledge of how garage doors operate, regardless of their make or type. Therefore, our company offers several maintenance services that will allow you to enjoy yours for years to come. We offer a complete system examination, which means our technicians will inspect each and every part to ensure they operate properly. Another service we offer is safety sensor testing, that will assure you it can be safely used and that its mechanism and safety features react as they should.
When Should I Call for Maintenance Services for My Garage Door?
A thorough inspection is recommended at least once a year, to ensure the whole system is intact. Also, such an examination can be performed after an extreme winter or a sand storm that can affect its function or operation. If the door squeaks as it moves, it might need spring lubrication, which we also offer. Sometimes during the examination, the technicians discover that a repair of some sort is needed. In such cases, they will inform you of the required repair and will offer the best solution, which will be delivered to your complete satisfaction once you approve the job.
What Should You Expect from Us?
Nothing less than a fast response, great service and high-end products that will all be provided by our reliable experts. We will arrive as soon as possible, advise you regarding the best service for the situation and perfectly deliver the required solution. If you want more information about our services, please contact us and we will gladly be of service.
Looking for more? We also offer:
Garage Door Off Track Repair
Garage Door Safety Inspections
New Opener Remotes & Clickers
Galvanized Torsion Spring Installation