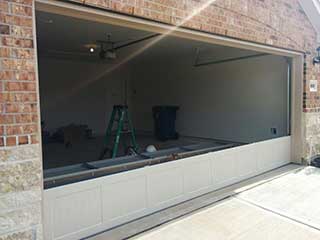 Your Opener Is Vital
If your garage door's opener is having issues, then the whole system is going to be having trouble working. The opener is essentially the brain that keeps everything going, so if it's malfunctioning you'll know it. It may be as drastic as the door refusing to work, or even just a lot of strange sounds. Whatever the case, it's best to have professionals come out right away and take a look. If left to continue struggling, it can wear down other parts of the system and cause even more damage.
Don't Leave That Cracked Panel
Even if the aesthetics of the door don't bother you, it's still important to get damaged panels fixed as soon as possible. Continuing to use the door while cracked can cause further issues with the rest of the door, and the harm may become worse and require a replacement rather than a repair.
We Take Care Of Tracks Too
The track that your garage door is on can become warped over time from various causes, and this makes it struggle to open and closed. Trying to deal with it yourself can be dangerous and may leave your door's system in an even worse state if you don't know what you're doing. Allowing a trained technician to take care of it is for the best!
That's Where We Come In
Our team would be happy to come out as soon as possible, whenever is best for your schedule! We'll be on time to get to work using only the finest tools and materials to ensure that all services are done right the first time. They'll be sure to last as well, so you won't be stuck needing more repairs before you know it. From Genie to Craftsman, we've taken care of them all before and are familiar with all the popular brands.
Get Your Garage Door Working Smoothly
It's time to take care of your door and make sure that it's ready to go! Call Garage Door Repair San Antonio today.
We also offer:
Extension Spring Adjustment
Roll Up Garage Door Services
Belt Drive Opener Installation
Garage Door Tune Up Services