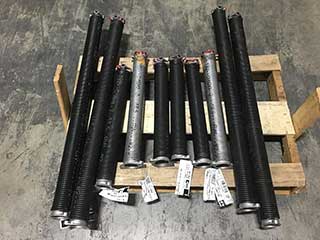 Garages contain one of the following two types of springs: Torsion and extension. Knowing the difference between the two is essential for your garage door's care and safety.
What is A Torsion Spring?
Torsion springs are newer and last longer than the traditional extension springs. With this in mind, they are also more expensive. These units work by storing and releasing energy when they rotate in the garage. They coil upon closing the door so that when it's time for it to open, the spring can unroll and release all the energy needed to ensure a smooth, powerful transition. Torsion springs should never be repaired with DIY methods, as they are dangerous without the proper tools and training. Always contact a professional when concerned about them.
What Is An Extension Spring?
Extension springs are named as such because they fully extend in operation. They are older than torsion springs, but still get the lifting job done by functioning on a pulley system. They are pulled taut when closing a door, and slacken when in opening motion. The extension spring can cause your door to jerk open due to the untamed tension within the coil, which can have negative consequences on the overall system. Though seemingly simpler, broken extension units are extremely dangerous. A snapped spring can cause a heavy garage door to abruptly slam shut, potentially hurting individuals or damaging property. They can also sometimes be shot off like a rubber band and inflict serious damage. Be sure to call a professional if you are seeing any signs of withering.
Which Is Better?
Torsion springs are the safer go-to option. They are closed systems that contain springs when they break, unlike the rogue ones that can pop off garage doors. They can also withstand 6000 revolutions more, and require fewer pieces than the original extension units. And though they are more expensive, torsion springs are the best choice for your door and for your safety.
Contact Us Today
Should you experience any issues, contact Garage Door Repair San Antonio to set up an appointment today and our professional team will gladly come to your help!