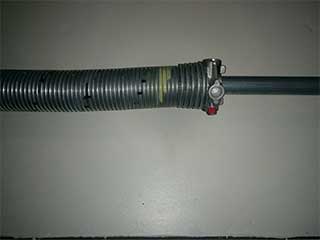 These are arguably the most important parts of your entire garage door system. They are in charge of supporting the weight of the panels, and assisting the door's movement by providing it with a tension-based force that springs store via a stretching or a twisting action. Depending on their type, they either stretch or twist up while the door is closed, and then contract or unwind while it's being opened. Because of the nature of their purpose, these components can be very susceptible to wear and tear, and will require a varying amount of care and attention in order to continue functioning optimally for as long as they can.
Regular Spring Maintenance
There's no better way to avoid a lot of dangerous spring-related accidents than to have these crucial-yet-dangerous components serviced on a regular basis. Our technicians specialize in lubricating springs to ensure their silent and smooth operation, and we also perform delicate adjustments to their tension level to make sure they aren't overstraining needlessly.
The Inherit Dangers
Although many homeowners may find it tempting to try and handle some situations by themselves, we highly advise against this. When a spring breaks, the tension that's stored inside it gets promptly released, which can cause it to go whipping around your garage. When this happens, the risk of laceration and other types of injuries is quite severe. Furthermore, a broken garage door spring will most likely cause your door to slam shut unexpectedly, which in itself can be more than dangerous enough to hurt any person or pet that's standing nearby. That's why professional assistance is always required when dealing with these components. Even the simplest mistake can lead to catastrophic results.
Count On Us
Regardless of what type of problem your springs or your door are affected by, you can always rely on our experts at Garage Door Repair San Antonio to provide you with a safe and effective solution. Call us today.
Count on our team for:
Part Replacement & Repair
Overhead Door Installation
Genie Garage Door Openers
Oil Tempered Torsion Springs